Opening Hours
Mon – Sat
09:30 AM - 01:30 PM
05:00 PM - 08:00 PM
Sun
09:30 AM - 01:30 PM
Holidays
Closed
Overview
What is Urticaria?
Urticaria, also known as hives, is an outbreak of swollen, pale red bumps or plaques (wheals) on the skin that appear suddenly — either as a result of the body's reaction to certain allergens, or for unknown reasons.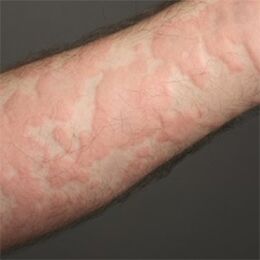 Hives usually cause itching, but may also burn or sting. They can appear anywhere on the body, including the face, lips, tongue, throat, or ears. Hives vary in size (from a pencil eraser to a dinner plate), and may join together to form larger areas known as plaques. They can last for hours, or up to one day before fading.
Angioedema is similar to hives, but the swelling occurs beneath the skin instead of on the surface. Angioedema is characterized by deep swelling around the eyes and lips and sometimes of the genitals, hands, and feet. It generally lasts longer than hives, but the swelling usually goes away in less than 24 hours.
Causes
Allergic reactions, chemicals in certain foods, insect stings, sunlight exposure, or medications can all cause histamine release. It's often impossible to find out exactly why hives have formed.
Chronic stress
There are several different types of hives, including:
Acute urticaria: Hives lasting less than six weeks. The most common causes are certain foods, medications, or infections. Insect bites and internal disease may also be responsible.
The most common foods that cause hives are nuts, chocolate, fish, tomatoes, eggs, fresh berries, and milk. Fresh foods cause hives more often than cooked foods. Certain food additives and preservatives may also be to blame.
Drugs that can cause hives and angioedema include aspirin and other nonsteroidal anti-inflammatory medications such as ibuprofen, high blood pressure drugs (ACE inhibitors), or painkillers such as codeine.
Chronic urticaria and angioedema: Hives lasting more than six weeks. The cause of this type of hives is usually more difficult to identify than those causing acute urticaria. For most people with chronic urticaria, the cause is impossible to determine. In some cases, though, the cause may be thyroid disease, hepatitis, infection, or cancer
How Can Hives Be Managed?
Homeopathy has an excellent role in urticaria. It helps to treat the underlying cause and maintains immunity.
some Natural tips for patient having urticaria, to practice in daily life :
Apply cool compresses or wet cloths to the affected areas.
Try to work and sleep in a cool room.
Wear loose-fitting lightweight clothes.